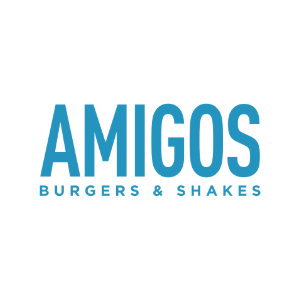 Investment Level: £280,000
Sector: Food & Drink
Franchise Fee: £25,000
Management Service Fee: 5%
The Amigos Franchise Opportunity

Are you a true food enthusiast with a deep love for mouthwatering burgers and irresistible peri-peri chicken? Does the idea of running your own restaurant and shaping your future excite you? Welcome to Amigos Burgers & Shakes, the UK's most thriving independent burger brand, and your gateway to a deliciously prosperous future!
Picture this: high-quality products, time-tested operational systems, and a dedicated customer following. That's what Amigos offers in every franchise location. As an aspiring foodie franchisee, you now have the opportunity to savour a slice of our success in a market valued at a staggering £20 billion.
Our secret recipe, honed over years of dedication, keeps customers coming back for more. From our mouthwatering British-beef burgers to indulgent chocolate-bar milkshakes and delectable garlic sauce, we serve up culinary excellence at prices that won't break the bank. We're not just passionate about food; we're equally committed to ethical franchising principles, ensuring that your journey to building a successful business is supported every step of the way.
At Amigos, it's all about the good stuff!
But don't just take our word for it. Over the past five years, Amigos has blossomed into a true success story. As a franchisee, you'll not only receive guidance in choosing the right business model but also benefit from:
Expert advice on selecting the ideal location and premises.

Assistance with your shop's fit-out.

Support in crafting effective marketing strategies.

Access to a comprehensive, ongoing training program.

A variety of business models to choose from.

Continued support for your shop's fit-out.
What makes a great Amigos franchisee?
Amigos are in search of passionate individuals who share their love for exceptional food and have an entrepreneurial spirit. An ideal franchisee is committed to maintaining the highest quality standards, prioritizes exceptional customer experiences, and thrives in a collaborative team environment. Adaptability, ethical values, strong communication skills, and a genuine dedication to building a successful, customer-centric business are the hallmarks of those who excel in this franchise network.
If you're driven by a desire to own and nurture your own business, and a commitment to ethical practices, you're the kind of franchisee that Amigos are excited to welcome into the Amigos family. Join them and let's create a community of like-minded individuals who believe in delivering the best to customers while building a successful and fulfilling future together.