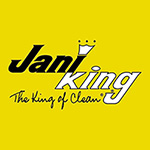 Investment Level: US$ 195,000
Business Leadership

As a Jani-King Master Franchisee, you're not just investing in a business; you're becoming a leader in your community. Take charge of your future and help others build their own businesses under your guidance. It's a win-win opportunity.
About the Franchise

Are you ready to take the reins of success in the commercial cleaning industry? Jani-King Master Franchise opportunities provide you with the keys to unlock a world of opportunity. As the master franchisee, you'll create and oversee a thriving network of franchisees all while benefiting from a well-established brand with decades of experience in the industry. Join Jani-King and become the leader of a thriving community dedicated to delivering exceptional cleaning services. Your journey to prosperity starts here.
Training and Support
Success starts with training, knowledge, and support. Jani-King offers extensive training and ongoing assistance to master franchisees. You'll gain a deep understanding of their proven systems and processes, empowering you to guide your franchisees towards success. With a comprehensive support network, you'll never feel alone in this venture. You have a team behind you every step of the way.
What Makes a Great Jani-King Master Franchisee?
A great Jani-King Master Franchisee is a visionary leader who knows how to motivate and guide their Team. You will be English speaking and fluent in the language of the country you want to work in. you will have:
experience of developing a business or large department in a corporate company

excellent communication skills

a passion for empowering others to succeed

you will excel in business development, communication, and decision-making. If you're a strategic thinker with a passion for empowering others to succeed, you're the kind of leader we're looking for. Join Jani-King and become the driving force behind a successful cleaning franchise empire.
Ready to explore the Jani-King Master Franchise opportunities? Take the first step to your franchising success by clicking below: